Week 6 welcomed Marrakech! This officially marks the longest I've been away from home and if I am being honest, I am loving every second. Yes, there are days that are harder than others, but I also pinch myself every day as a reminder how lucky I am to be on this adventure.
Anyway, excited to share with you my thoughts on Morocco!
Cultural Notes:
This is the most religiously driven place I have ever visited. Laws are in place to prevent sex before marriage. Alcohol is not served in restaurants. There are prayer noises heard throughout the day, broadcast across the city. It is a criminal offense to express homosexuality (people here are homosexual, but you can't get caught in the act).
Mint tea is Morocco's wine. Never drank so much tea in my life before this week. It's really fresh and delicious, though, and if ordered normally, has a lootttt of sugar in it.
Cat calling is part of the culture. Men seem to have competitions to see how many looks or reactions they can get. This doesn't mean I feel unsafe though, *knock on wood* have not ever felt threatened. Just interesting that it's so widely accepted.
Along the same lines, women are expected to cover their bodies in public. For tourists, loose clothing and long sleeves/pants are recommended. Luckily it is a little bit cooler here than Cape Town, but the 80s don't feel great in jeans. The more skin you show, the more you are asking to be objectified.
Non-Moroccans are not allowed to bring Moroccans of the opposite gender back at night. If caught, you will be jailed, the guard on duty will be jailed, the building owner will be jailed, along with the landlord.
The food here is AMAZING. Tajine is the main dish and it's a plate of food cooked in a ceramic cone structure. I think I have already had tajine three times. Lots of cooked veggies and potatoes.
A 'medina' is the main market found in Moroccan cities. Before arriving, I thought it was much, much smaller, something you do once. No, you could go to the medina five times and still not see it all. This is due in part to the fact that it's very easy to get lost.
Bartering is how you get prices on anything in the medina or on taxis. I'm not very good at it especially because I don't know what things are supposed to cost, so I don't know what to ask for.
Traffic lights are sparse, so every intersection is a free for all. Although, they do seem to have a system down somehow. On a similar note, crosswalks may as well not be on the roads because no one stops at them. Truly a game of frogger every time you have to cross a street.
Main languages: French and Arabic
Currency: Moroccan Dirham (not to be confused with the UAE dirham)
Monday-
Woke up early and went grocery shopping, feeling a little off probably from all the travel
City welcome with Marrakech's amazing city team- they were so amazing filling us in on the dirty details of the area. Did you know Starbucks here after 6pm becomes a place for prostitutes to congregate?
Bus to the medina- felt so good to take public transportation again! And it's only 4 dirhams, aka $0.40
First walk through of medina. Let me reiterate, this is NOT your typical open, small market. No, this is a HUGE web of alleys and street vendors and restaurants in which you could get very lost. Lots of people yelling at you and in your face trying to sell.
Lunch at Café des Epices- got an omelet. It was not at all what we picture as an omelet. This thing was three fried eggs in a vegetable stew of sorts and it was DELICIOUS.
First taxi experience. We successfully negotiated the rate we needed.
Tuesday-
Breakfast with the group near the medina. Got the standard egg served in the small pan (usually with meat) and bread. And of course mint tea.
Broke off with two other Remotes to wander the market.
Got pulled aside by a man who walked the three of us into his spice shop and explained what everything was and what it was used for. We were skeptical because we didn't want to pay him money for this experience we didn't ask for. He did urge us to buy stuff at the end, but we were able to get out of it. All in all, a win, I wanted to know what everything was anyway.
Wander a bit through the clay colored streets, definitely away from tourists
Stumble upon Slat Al Azama Synagogue, an absolutely BEAUTIFUL tiled, blue foyer with prayer rooms all around. I felt bad taking pictures in a religious space but it was so stunning.
Walk back to apartment, about twenty-five minutes. It has been SOO nice to walk around again and not feel concerned for safety or belongings.
Wednesday-
Early morning walk to the medina. Left at 7:30 and it was still dark, didn't get light until 8:15ish, very strange.
The medina apparently does not start opening until around 10, so it was very cool to see all of the shops closed and the walkways that were so packed yesterday, empty.
The medina alleys were open to motor bikes, stray cats, and locals gearing up for the day. Highly recommend the medina before it opens, very cool.
Remote Year Positive Impact meeting- this month we are focusing our efforts at a local high school as well as coordinating an event with a local women's empowerment center.
Doctor's appointment for the back. Unless it was lost in translation, MRI is not needed, just need to let it heal. Had to use my French! The receptionist spoke zero English. No better way to learn, right?
WoRk
Game night with Remotes. Ever played Jackbox? It's funnnn
Thursday-
Slow morning
Lunch with a group of Remotes at the Amal Non Profit Restaurant. Amazing lunch of vegetable fritters, veggie tajine, and chocolate mousse

Meeting with the Director of the project to discuss how Remote Year can support Amal. She filled in that we could organize a meal or cooking class with the whole group, but that their fridge broke a week ago and they were in need of a new one.

Energized, inspired, and eager to support the women's empowerment program, I set out a plan to raise money for the replacement. Lesson on socially irresponsible tourism to come.
We also asked the Director if there were any skills the group could contribute to Amal, be it marketing, financial, language. Interested to see if she will come up with anything.
This is Remote Year's last month sending a group to Marrakech so we want to leave things as best we can.
Work from the rooftop of the workspace, called The Spot.
Bachelor watch party turned conversation about inclusivity within Parea (our RY group). Interesting to hear how other people are feeling left out of the group. I can relate to feeling down at times because I see people doing things I would have liked to be a part of, had I known of them. Tis the nature of the program I guess.
Friday-
Another slow morning…staying up late is clearly not my forte
Worked out of Karma Café all day, by their pool, admiring the colors and beautiful tiling, drinking tea. Had to be productive in advance of my brother's visit.
Story night with Parea with the theme of firsts. Heard about people's first trip on their own, escape from the house, perms, boyfriends, etc. Been different hanging out with everyone when they're sober. Cape Town felt like a constant buzz for most.
Saturday-
Group workout by the pool, been getting in the habit of doing this every morning. Today was no exception. It's nice to have the pool/courtyard because it feels secluded enough to not worry about clothing and being covered.
Planning for the week ahead and some errands
Work and relax
My brother, Cobi, arrives!! Note to self: don't try to walk to an airport at night.
First night out in the city at a casino type restaurant/bar. Idk not my speed. Sort of felt like Vegas.
Sunday-
Morning bus ride to Essaouira, a smaller, coastal city, with a small group of Remotes.
Took the CTM bus line, super easy, AND we saw goats in trees on the ride there. Took about 3 hours.
Goats in trees you ask? Yes, it's a thing. Apparently the goats eat the argan seeds out of the trees but can't digest them. So the farmers use the goat poop to get softened argan. You're welcome for the next time you use your argan oil shampoo.
Check into AirBnb- Riad Lalla Zina. Really affordable, beautiful rooftop that happened to be one of the highest in the city, quaint room, and breakfast!
Roam the medina- this medina is much smaller and more manageable than the one in Marrakech. Vendors are less in your face and it was easier to bargain with them.
Lunch at Restaurant La Tolerance- affordable, traditional Moroccan food, stuffed sardines apparently worth the try
Check out the Skala du Port- home of the famous blue boats that Google shows you are Essaouira, smells really fishy but definitely a cool experience, also a Game of Thrones filming area
CATS- there were so many cats roaming the streets, all well treated and groomed, I am 100% a cat over dog person, I was loving it. Even spotted some kittens and a newborn litter.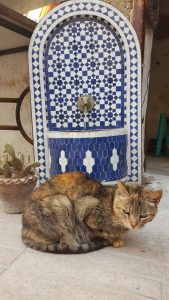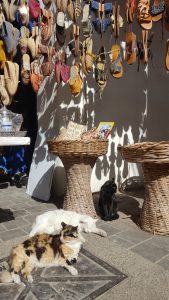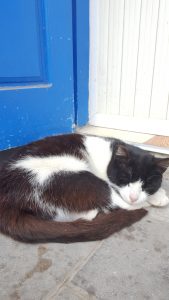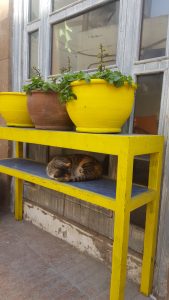 Colors- Marrakech is all pink buildings but Essaouira was blue and white. Reminded me of scenes from Mamma Mia with some buildings showing their age but preserving their character. Absolutely beautiful.
Doors- all of the alleys lent themselves to unique doorways, all shapes, sizes, and colors.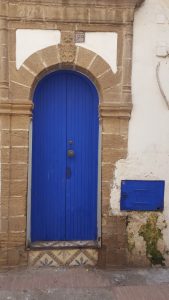 More wandering and sunset from top of Taros restaurant- wouldn't recommend, pretty touristy.
Dinner at Triskala Café- AMAZING food, rotating menu that's sourced locally, hip and cool vibes
If you can't tell, I enjoyed Essaouira a lot!! Great break from the big city.
This week will be a busy one with Cobi in town! Trying to find a balance between work and play.