Week 12 was a whirlwind with my sister in town but lots of good memories shared, topped with a visit to my favorite place on Earth! Of the most important things I learned this week: electric scooters are SO MUCH FUN!!
Cultural Notes:
Easter traditions here do not include the Easter bunny or egg hunts. On continental Portugal, it's typical that each

godfather gives money to their godchild(ren) and each godchild gives flowers to their godmother. In Madeira, where we were, each child gets a big chocolate egg or bunny with a toy inside. Church is a big part of the celebration and lots of food as well.

The school process is a bit different in Portugal. In high school, teens select a discipline that they will go on to study in college. This selection affects which classes you take in high school. For example, someone who elects Medicine for university will take fewer humanities courses and heavy science classes in high school. Then when it comes time to go to college, you take an exam similar to the SAT, and your score decides which university you can go to. There is a small piece of your high school grades that get factored in but other than that, the school you can go to is based on that test score. It's a bit hard to explain, but basically, your test score and chosen discipline determine where you can go to university.
It is unusual to have a job as a teenager, in fact, most people don't have one until they graduate college. Because of that, I found kids to be much more reliant on their parents longer, especially financially.
Madeira Island, Portugal:
As many people know, my grandparents were born on a small, Portuguese island in the Atlantic, off the coast of Morocco, called Madeira. It is my favorite place on Earth, and I have now spent seven weeks of my life there. My grandfather's family is all still on the island, so a visit there is busy with seeing thirty or so people. Most of them speak English and my understanding of Portuguese is pretty good now, but this trip was an exhausting 5 days of engaging in conversation. That being said, I love all of my cousins and am so grateful to have the connection to them. When we are not together, we have a large Facebook group chat sending pictures back and forth.
Madeira is roughly 2/3 the size of Rhode Island and is pretty mountainous, the highest peak being at 6,100 ft. The capital city and biggest tourist hub is Funchal, and it sits on the southern coast. It is a stop on some cruises and heavily visited by European tourists. As we experienced, landing on the island is an experience in itself given the runway is over the ocean, pretty short, and in a really windy area. Don't look forward to doing that again….but I will in a heartbeat. The island is best seen by driving in a car, although there are buses, and the drive provides stunning views all around. For a small place, it probably has 15 different climates at once. In the mountains, it will be cloudy or raining and within 15 minutes of driving to the coast, it will be sunny and warm. The north of the island is generally cloudier, but I think the most beautiful, and the south of the island has the sunny beaches.
At some point, I want to do a full guide for how to see the island, but below I share a summary of what we did this time. Part of me wants to keep Madeira as a secret because I love that it's my special place, but part of me wants to scream it out loud so others can experience how amazing it is.
Week Summary
Monday:
Bus out to the Tower of Belem, along the river towards the ocean, with C&T
Belem is an old tower that served as a symbol of entry to Lisbon and as protection along the river. Really cool looking, I

recommend.

Walk around the neighborhood, cool fountain and cathedral. Get famous Pasteis de Belem, the Mike's Pastry equivalent of Lisbon.
Rent electric scooters and ride along the river back to the center of Lisbon. Lisbon has a bunch of different brands and because I was the only one who could manage to get the apps on my phone, we all tried a different kind. Note to self: make note of where the railways are and don't rent scooters on one side of the tracks if you want to be on the other. We had to carry the scooters up and down stairs to get to the promenade. It was maybe the funniest thing all trip.
Anyway, was a beautiful day and we had SO MANY LAUGHS, like little kids. Also, taking videos/pictures while riding is hard
I worked while C&T kept wandering then we met for dinner
Tuesday:
Day trip to Sintra- seriously this place is a fairy tale, but also we had a comedy of errors. Keep in mind that I had to work for 4 hours somehow in this day which added time pressures.
Miss the first two trains that we wanted to take (it's a 40 min ride) because the line in the station to get tickets was INSANE
Arrive and go to the Quinta da Regaleira, one of the many castles in this small city, and the line is crazy. Wait for thirtyish minutes to get in but SO worth it. Really, really cool castle and garden. It was a beautiful day outside and we were not the only ones that decided to take advantage.
Sintra has a bus that will take you from castle to castle, but it's 15 euros per day per person. Because we only really had time for 2 castles, we decided to opt out. So instead, we ubered from Quinta to Pena Palace (the famous, colorful Sintra castle)
Quinta and Pena are only 6km away but because of one way streets our uber ride was 45 MINUTES around all the lands. It was a beautiful drive, stunning views….but also I was pressed for time and Tessa gets motion sickness.
Arrive at Pena Palace and there's another huge line. I straight up don't have time so I walk 45 minutes back down to the city and leave C&T to explore on their own.
Scramble around and luckily find an awesome café for dinner and solid Wi-Fi
Receive a panicked phone call from another friend; I swear I am not picking up the phone anymore. Another reminder real life is still happening. My heart is hurting that my friends are hurting.
Receive another phone call from C&T saying they were riding in an Uber and the driver was being weird so they got out and were now on the side of the road waiting for another one. Talk about being a bad sister….yikes
After an emotionally exhausting 4 hours, I finished work and was reunited with C&T
They got Chinese food and the three of us took the train back to Lisbon
Long story short, I will most definitely have to return to Sintra
Wednesday-
Took bus to LX Factory- a hip neighborhood on the way to Belem, explored the street art
Walked to the Underground Village- a small area built of old buses and shipping containers, got coffee
Got scooters again and went back to the apartment
Worked while C&T shopped
Dinner and packed for Madeira
Thursday-
Land in Madeira after sitting in the airplane for an hour before takeoff and experiencing a rough three minutes before touching down
Picked up by cousin that we are staying with, grab some pastries and coffee in Canico and fall in love all over again with being on the island
Visit Cristo Rei, the giant statue of Christ with a view back on the island
Stop at my family's bar in Camacha and say hello to everyone there. The lifestyle is such that most of the family eats lunch together and, in general, spend a lot of time with each other.
Drive to Pico de Arreiro, the second highest peak of Madeira, for a view above the clouds. Tessa was a trooper with all the mountain roads and I hope it was worth the ending.
Lunch at aunt's house with most of the family. Seriously all of the food there is amazing, I ate way too much the entire 5 days.
Work from home and then grab dinner. Dinner was traditional meat on a giant skewer (I didn't eat that, but others) and milho frito (fried cornmeal cubes, so delicious I can't explain).
My cousin's house is really cold so bundled up and went to bed
Friday, ROAD TRIP-
As mentioned, island best seen in a car, and on this day we covered all of my favorite places. Took off around 11 and returned at 8pm for dinner.
Stop 1: Camara de Lobos- old fishing town with colorful boats and cool street art, last time I visited it was my favorite. Was lit at the time for Christmas and equally as pretty this time.
Stop 2: Cabo de Girao- a lookout with a floor of glass, suspended 580m over the water, nice view from above
Stop 3: Sao Vicente- had lunch along the coast and walked around downtown. The sun broke through and it was a perfect day. Took a picture in the same place I've taken one the last two times and where my mom and her dad took one in 1992. (see below)
Stop 4: Miradouro do Véu da Noiva- a view of a waterfall into the ocean, the pictures here are seriously unreal, the colors, the cliffs…ugh.
Stop 5: Seixal- this visit this was my favorite stop, the view was perfect and we walked along the beach a bit. Madeira has very few beaches and the ones they have are black sand (they have two with imported yellow sand for the tourists).
Stop 6: Porto Moniz- a swimming hole during the summer, but really nice place to sit and watch the waves crash, plus there's a drive up the mountain that give you a view over it.
Stop 7: Paulo de Serra- the flat region in the mountains where cows can be found crossing the road
Stop 8: Paulo do Mar- the best place to watch the sunset with drinks, we had shared caiparinhas and nikitas (made with ice cream) and some tremoco (lupine beans).
Stop 9: Back to Camacha for maybe my favorite meal (idk, too many good ones): picado. Chicken with a tomato-y sauce with mushrooms and French fries.
Perfect day with my people in my favorite place.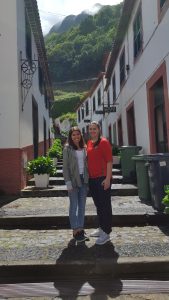 Saturday-
Morning in Funchal, walk around the fresh market and see the street art, do a little shopping while C&T go to the CR7

(Cristiano Ronaldo) museum

Lunch in Camacha (where my family lives) with an uncle and his family. I didn't get to see these cousins last time so that was nice. There were enough English speakers that we pieced together some conversation. I also made a point to video chat with my grandmother and it was fun to watch two older people try to communicate over Facebook messenger.
Another short road trip to the east of the island for more stunning views of the cliffs and a stop in Faial, another favorite
Dinner in Ribeira Frio was a prego- the most amazing sandwich there is, with bolo de caco as the bread, my all time fav.
Cozy night by the fireplace watching Mary Poppins, the new one
Sunday-
Easter with the entire family, spent all day eating and chatting with cousins. Was a beautiful day outside and nice to

relax and not do much.

Food included potatoes, rice, delicious roasted chicken (my mouth is watering remembering), cheeses, vegetables, and so much dessert. Also Jordan almonds are an Easter staple. All topped with homemade sangria and chocolate mousse. So. Full. (of love and food).
What a week! And my sister's visit was not done! We had a blast together despite me being a bit overwhelmed by all the pieces together with work, friends at home, etc. So happy whenever I get to be on my island and even happier to have shared Lisbon with C&T.