One month in Chile is not enough! A week of learning Spanish and a weekend in one of the most Remote islands of the world! Skip ahead to Easter Island if you're bored of Santiago, such a cool trip 🙂
Culture Notes
Santiago has a lot of pedestrian friendly areas in the city center. Reminds me of Cape Town in that you'll see lots of little vendors on the streets selling things from snickers bars to bracelets.
Tip? Tend to do it, but not mandatory. Waiters and waitresses do have a proper salary. 10% is standard.
Twice so far this month, I have noticed roads that go in one direction at a certain time of day, and in another direction at a different time of day. Apparently this is true in parts of DC, but yeah, smart.
We were warned two things about Tinder here, 1) a lot of people are on it to get more Instagram followers, and 2) expect dates to be late because Chileans are not known for promptness…this seems like a theme everywhere.
The ground level of almost every building in the city center is a walk-through shopping center. This means two things: 1) if you need a phone case, you have about a billion options and 2) if it's raining you can almost make it from A to B without walking outside. Really blows my mind how many shops there are.
Chile has the third largest population of Venezuelans outside of Venezuela. Our Experience Manager speaks very highly of them and thinks they are helping Santiago a lot. Why'd they pick Chile? Has the most stable economy around. Since the end of the dictatorship in the 1990s, Chile has opened their doors to immigrants. It can be imagined that they will soon reach a limit and need to create greater restrictions on who can enter.
A product of the Venezuelan influence: one of my new favorite foods, arepas. A cornmeal sandwich type thing stuffed with meat, cheese, beans, so freaking good.
Mapuches are the indigenous people of mainland Chile. They have their own language and flag and tend to not consider themselves Chilean even though Chileans do. Our Experience Manager explained he was taught growing up that Mapuches are not good people, so naturally there's racism against them. They also have their own set of rules and cuisine/culture. Would have liked to learn more about them.
Chilean greeting is a single kiss on the cheek.
Cueca is the national dance of Chile. It mimics a rooster flirting with a hen, man crosses the room, grabs the woman, tells her all the things he can offer, then they clap and dance. This is mandatory to learn in school. Interestingly, sometimes people do switch roles (i.e. woman could cross the room and grab the man, or we think a man could choose another man…must research)
Fun fact: Japan and Chile wear pajamas the most often to bed in case of earthquakes and needing to evacuate.
Week in Review:
Monday-
Groceries, laundry, chill
Tuesday-
Long walk around the city after work. Was hoping to find something more exciting to like about the city, but just soaked in the normalcy. Found the university, local empanada stands, and lots of people selling goods on blankets on the sidewalks. Hats, t-shirts, wallets, shower heads, ya know, the norm
Wednesday-
Workshop on Digital Marketing and Social Media Advertising led by Michelle, a Parean. One of the advantages of Remote Year is having a network of people all doing different work who can drop some knowledge!
Things I learned/was reminded: the internet is constantly capturing data on us and using it to douse us in information they think we'll find relevant.
Among other things, she walked us through creating a targeted ad on Facebook's platform. We were able to target groups based on zip code, interests, activities, age, pretty much anything but race and income level. We created an ad for single females age 22-30 who like skiing, were in Chile within 2 miles, and who had an interest in bitcoin. Crazy. But cool.
Thursday-
Over the second Parea-bod challenge, I was partnered with Remote Year's local Spanish teacher. He lives in Santiago with his wife and two kids.
How is this great for me? Well he's very active and earned us a lot of points, but he also has two bikes and knows his way around!
Bike ride up San Cristobal hill, a somewhat difficult but beautiful ride up to the view of Santiago I'd seen the week before. It was a gorgeous day. And he wound me down the back way so I could also tour through the neighborhood of Providencia, one of the more upscale, newer parts. Highly recommend a bike ride through that area if you ever visit.
As if that wasn't enough exercise for the day, a group of us, led and organized by our Experience Manager, got to play a game of futsal at a local court!
Was a solid game of 3-on-3 with one new element: the floor was very slick. It was concrete covered in a layer of dirt or something that meant no such thing as changing directions quickly. This played to my advantage because I could just play with the ball until the defender slipped.
Played a game to ten, I scored the winning goal, picked someone off, and walked in on and open net…had to dive to the ground and head it in, of course.
It was a blast, and the adrenaline definitely powered me through the straight hour. The game ended and some of the locals said to me "you're my new idol. Is your last name Morgan? Did you play in high school? University? Real Madrid?" Lol. This is what happens when girls are not encouraged to play soccer in other countries.
EASTER ISLAND/ISLA DE PASCUA/RAPA NUI- Best RY Side Trip (so far)
The Facts: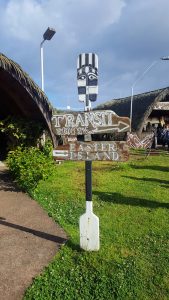 Home to the most remote airport. Only two destinations have flights to Easter Island, Santiago (two in a day) and Tahiti (once a week)
Has one small town, Hanga Roa, complete with restaurants, lots of mini supermarkets, an ice cream shop, one club/disco-teque, a few playgrounds, a port for small boats, and little shops. Oh, AND a full-size soccer field with games almost every night. I was actually really surprised they were able to field so many games.
Population of the island is just under 6,000 people, plus whatever 2 flights of people can bring in a day.
The island is 63 square miles, able to drive from one end to the other in roughly 30 minutes on semi-paved roads.
Island is formed from the volcano Rano Raraku and is covered in volcanic rock. Outside of the small town, the landscape is rolling grass hills that lead to rocky shores and some cliffs. There are also two sand beaches, and a cave in the middle of the island.
It's believed that people have lived there since 1200 AD and was then found by the Dutch in 1722 on Easter Sunday (hence why it's called Easter Island)
Famous for its 1,000+ stone heads that can be found all over the edge of the island. The story on how they were made is up for discussion. Most believe they were carved with rock in the middle of the island on their backs, then lifted and shimmied to the coast using ropes and a lot of manpower. Each one weighs around 13 tons.
On the coast, the heads sit on 'ahu's (stone platforms) and face in towards the island. The eyes are carved once on the ahu and that's when they become 'official'. They were said to have sacred powers, and were both political and religious figures.
We think of them as 'heads' but some have bodies too, with folded legs. Also three head shapes: circular, then square, then rectangular. Some also have what our tour guide was calling a 'top-knot', sort of like a man bun.
Of the 1,000 statues, only 11 are female. The nicest ones are on Anakena Beach and were commissioned by the king.
Visitor's Tips:
Rent. A. Car. Best way to see the island. There are small rental shops in town, but the best deals are through your AirBnb.
There is little to no cell reception or Wi-Fi anywhere on the island. Definitely a place to disconnect. If you do need Wi-Fi, a few cafes have it and the public parks.
The food/menu at restaurants is pretty much the same everywhere. I mean really, they're all working with the same ingredients. Lots of ceviche, potatoes (they have a special one called camote), salads, sandwiches on pretty bland bread, EMPANADAS, and fresh smoothies. You can expect to drop $20/meal.
Most AirBnb/hostel/hotel hosts will pick you up at the airport and give you a lei…and take you to your place
Pretty much the whole island is a protected National Park. You have to buy a Rapa Nui National Park pass to access any of the sites, and they are only purchasable with cash (~$50).
Our Itinerary:
Friday-
6am flight from Santiago to Rapa Nui. Pro tip: you need to fill out a form online before you can get a boarding pass, it's like Easter Island's customs form. Two of our friends missed their flight and had to catch the next one. Also pro tip: sit on the left side window seat. Had front row view to sunrise over the Andes
Our lovely AirBnb host, Marisol, greeted us at the airport. Smallest airport I've ever been to, only one baggage carousel, one check-in desk, one waiting room, so funny.
Marisol buys us pink leis, shows us around town and checks us in to our little home for the weekend. Place was great, though I could've done without the roosters right outside my window that do not have a sense of time.
Grab lunch at what ends up being our favorite café: Kia Ora, and explore the coast near Hanga Roa. Also see the most giant turtles I've ever seen right along the shore. Take a nap by the beach after the early wake up.
Night activities included dinner at Oahao downtown with the whole group of 6 of us and a hangout watching the stars at the place friends were staying at.
Saturday-
Full day bus tour of the island. Found a vendor on the main road and piled in. It was a bit pricey and I probably only needed a half day BUT a tour was a great way to learn about the island and get some bearings.
Morning was spent on the south side of the island with a main stop at Rano Raraku, the inland grassy area filled with moais. We made it all the way to Ahu Tongariki before getting dumped on and coming back for a homemade lunch.
Afternoon was spent on the north side with a main stop at Anakena Beach. We all needed a little rest after the day and bunkered down in our respective places.
Because there was no cell service, the six of us had a lot of quality time together. It was refreshing to just sit around and chat
Night activities included dinner at Kia Ora and a night in drinking and playing cards. Seriously, I have not laughed so hard for so long in forever. Such a fun time. Capped off with two friends sprinting home in the pouring rain and another slamming into a glass door after it'd been closed by someone inside.
Sunday-
Morning run to Ahu Tahai, beautiful morning but very windy and wet from the storm the night before
Rent two jeeps between the 6 of us and take off exploring the island.
Kind of accidently stumble upon a cave in the middle of the island, and enter it through a tree, not the official entrance. Made for more fun when we had to break out our phone flashlights to find the way.
Also stumble upon our FAVORITE spot on the island: the tiny beach of Ovahe. Have to hike up and over a bit of volcanic rock, but the water is stunning and it's nice and quiet. Spent time hanging here before lunch back in town at Ahi Ahi.
Get some 'Poe' (the island's version of banana bread, a must try) flavored gelato before another chill afternoon chatting
Night activities included sunset (well a cloudset) at Ahu Tahai, followed by dinner at a local joint with live music.
Monday-
Wake up at 7am for the sunrise (yes, a late one). Drive to Ahu Tongariki, about 25 minutes from town. The clouds were ominous all the way there, then it rained a little, then it continued to be cloudy. Just as people were giving up, THE SUNNNN came through.
I can't really describe this moment but here goes: in one direction we had the sun rising over these stone figures all in a row. In the other direction we had a slowly forming FULL, horizon to horizon, double rainbow. I kind of think the year peaked right then and there. Oh and I was surrounded by almost all my favorite people in Parea. Just wow.
Drove then to Anakena Beach, literally rainbows in all directions, and a perfect morning to be out. Great way to end a great weekend.
Last stop was seeing the Rano Kau crater and Orongo mountain village. Cool to see but nothing super note-worthy.
Packed up and headed to the airport early. At this point, we were well aware of the turmoil in Santiago and were cautious of flights being cancelled. Ended up being delayed but made it back to Santiago…first thing out my window? A huge fire. Let the games begin.
Whew, what a week and adventure. Highly recommend adding Easter Island to your list. Be sure to read on to learn what I came home to!